Announcing the 2022 LLVM Developers' Meeting Program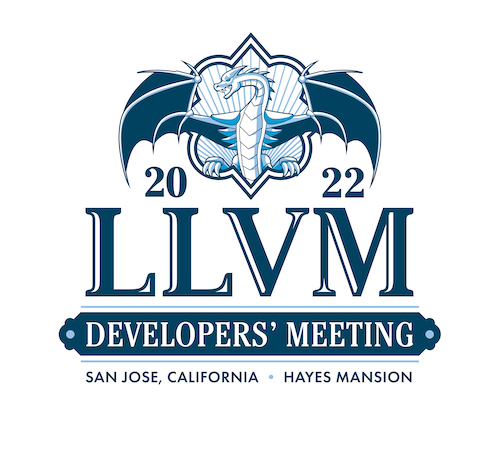 We had an amazing group of talk proposals submitted for the 2022 LLVM Developers' Meeting. Thank you to all that submitted a talk proposal this year!
Here is the 2022 LLVM Developers' Meeting program:
Keynotes:
Paths towards unifying LLVM and MLIR - Nicolai Hähnle
Implementing Language Support for ABI-Stable Software Evolution in Swift and LLVM - Doug Gregor
Technical Talks:
Implementing the Unimplementable: Bringing HLSL's Standard Library into Clang - Chris Bieneman
Heterogeneous Debug Metadata in LLVM - Scott Linder
Clang, Clang: Who's there? WebAssembly! - Paulo Matos
MC/DC: Enabling easy-to-use safety-critical code coverage analysis with LLVM - Alan Phipps
What does it take to run LLVM Buildbots? - David Spickett
llvm-gitbom: Building Software Artifact Dependency Graphs for Vulnerability Detection - Bharathi Seshadri, Yongkui Han
CuPBoP: CUDA for Parallelized and Broad-range Processors - Ruobing Han
Uniformity Analysis for Irreducible CFGs - Sameer Sahasrabuddhe
Using Content-Addressable Storage in Clang for Caching Computations and Eliminating Redundancy - Steven Wu, Ben Langmuir
Direct GPU Compilation and Execution for Host Applications with OpenMP Parallelism - Shilei Tian, Joseph Huber
Linker Code Size Optimization for Native Mobile Applications - Gai Liu
Minotaur: A SIMD Oriented Superoptimizer - Zhengyang Liu
ML-based Hardware Cost Model for High-Level MLIR - Dibyendu Das, Sandya Mannarswamy
VAST: MLIR for program analysis of C/C++ - Henrich Lauko
MLIR for Functional Programming - Siddharth Bhat
SPIR-V Backend in LLVM: Upstream and Beyond - Michal Paszkowski, Alex Bezzubikov
IRDL: A Dialect for dialects - Mathieu Fehr, Théo Degioanni
Automated translation validation for an LLVM backend - Nader Boushehrinejad Moradi
llvm-dialects: bringing dialects to the LLVM IR substrate - Nicolai Hähnle
YARPGen: A Compiler Fuzzer for Loop Optimizations and Data-Parallel Languages - Vsevolod Livinskii
RISC-V Sign Extension Optimizations - Craig Topper
Execution Domain Transition: Binary and LLVM IR can run in conjunction - Jaeyong Ko
Tutorials:
Using LLVM's libc - Sivachandra Reddy, Michael Jones, Tue Ly
How to implement a new JITLink backend in a week - Sunho Kim
Panels (some speakers still to be announced):
Machine Learning Guided Optimizations (MLGO) in LLVM
Static Analysis in Clang - Gabor Horvath, Artem Dergachev, Bruno Cardoso Lopes
High-level IRs for a C/C++ Optimizing Compiler - Bruno Lopes, Ivan Baev, Johannes Doerfert, Mehdi Amini
Panel discussion on "Best practices with toolchain release and maintenance" - Aditya Kumar
Student Technical Talks:
Merging Similar Control-Flow Regions in LLVM for Performance and Code Size Benefits - Charitha Saumya
Alive-mutate: a fuzzer that cooperates with Alive2 to find LLVM bugs - Yuyou Fan
Enabling Transformers to Understand Low-Level Programs - Zifan Guo, William S. Moses
LAGrad: Leveraging the MLIR Ecosystem for Efficient Differentiable Programming - Mai Jacob Peng
Scalable Loop Analysis - Vir Narula
Quick Talks:
LLVM Education Initiativei - Chris Bieneman, Kit Barton, Mike Edwards
Enabling AArch64 Instrumentation Support In BOLT - Elvina Yakubova
Approximating at Scale: How strtofloat in LLVM's libc is faster - Michael Jones
MIR support in llvm-reduce - Matthew Arsenault
Interactive Crashlogs in LLDB - Med Ismail Bennani
clang-extract-api: Clang support for API information generation in JSON - Zixu Wang
Using modern CPU instructions to improve LLVM's libc math library. - Tue Ly
Challenges Of Enabling Golang Binaries Optimization By BOLT - Vasily Leonenko, Vladislav Khmelevskyi
Inlining for Size - Kyungwoo Lee, Ellis Hoag, Nathan Lanza
Automatic indirect memory access instructions generation for pointer chasing patterns - Przemysław Ossowski
Link-Time Attributes for LTO: Incorporating linker knowledge into the LTO recompile - Todd Snider
Expecting the expected: Honoring user branch hints for code placement optimizations - Stan Kvasov, Vince Del Vecchio
CUDA-OMP — Or, Breaking the Vendor Lock - Johannes Doerfert, Joseph Huber
Thoughts on GPUs as First-Class Citizens - Johannes Doerfert, Shilei Tian, Joseph Huber
Building an End-to-End Toolchain for Fully Homomorphic Encryption with MLIR - Alexander Viand
Lightning Talks:
LLVM Office Hours: addressing LLVM engagement and contribution barriers - Kristof Beyls
Improved Fuzzing of Backend Code Generation in LLVM - Yuyang Rong
Interactive Programming for LLVM TableGen - David Spickett
Efficient JIT-based remote execution - Anubhab Ghosh
FFTc: An MLIR Dialect for Developing HPC Fast Fourier Transform Libraries - Yifei He
Recovering from Errors in Clang-Repl and Code Undo - Purva Chaudhari, Jun Zhang
10 commits towards GlobalISel for PowerPC - Kai Nacke, Amy Kwan
Nonstandard reductions with SPRAY - Jan Hueckelheim, Johannes Doerfert
Type Resugaring in Clang for Better Diagnostics and Beyond - Matheus Izvekov
Swift Bindings for LLVM - Egor Zhdan
Min-sized Function Coverage with IRPGO - Ellis Hoag, Kyungwoo Lee
High-Performance GPU-to-CPU Transpilation and Optimization via High-Level Parallel Constructs in Polygeist/MLIR - William S. Moses, Ivan R. Ivanov
Tools for checking and writing non-trivial DWARF programs - Chris Jackson
Analysis of RISC-V Vector Performance Using MCA Tools - Michael Maitland
Optimizing Clang with BOLT using CMake - Amir Ayupov
Exploring OpenMP target offloading for the GraphCore architecture - Jose M Monsalve Daiz
Posters (more posters to be announced at a later date):
Removal of Undef: Move Uninitialized Memory to Poison - John McIver
Optimizing Julia's ORC JIT - Prem Chintalapudi
An LLVM-Based Compiler for Quantum-Classical Applications - Xin-Chuan Wu
Specializing Code to New Architectures via Dynamic Adaptive Recompilation - Quinn Pham, Dhanrajbir Singh Hira
LLFPTrax: Tracking ill-conditioned floating-point inputs using relative error amplification in LLVM - Tanmay Tirpankar
LLVM continuous upstream integration and testing - Jay Azurin, Keerthana Subramani
Automatic indirect memory access instructions generation for pointer chasing patterns - Adam Perdeusz
Thank you to the volunters on the Program Committee for all of their hard work and time spent reviewing proposals. A special thanks also goes out to this year's chair - Anton Korobeynikov. Here is the complete 2022 LLVM Developers' Meeting Program Committee:
Kristof Beyls
Andrey Bokhanko
Chelsea Cassanova
Johannes Doerfert
Florian Hahn
Petr Hosek
Min-Yih Hsu
Anton Korobeynikov (Chair)
Aditya Kumar
Hem Neema
Diego Novillo
Fangrui Song
J. Ryan Stinnett
Caroline Tice
Mircea Trofin
Registration closes on October 31st, so register today for the 2022 LLVM Developers' Meeting.